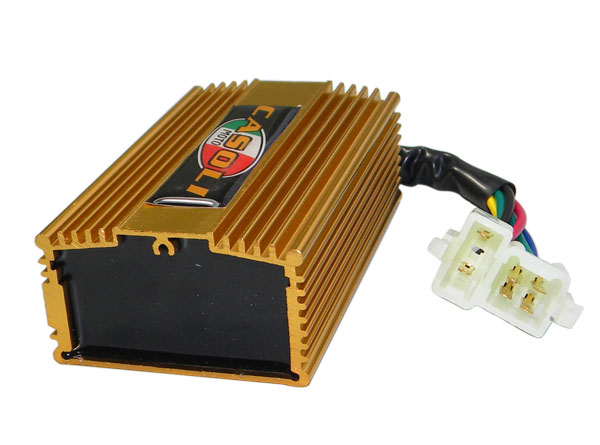 Racing CDI "CASOLI" (AC) 150-250cc Wechselstrom
2 Stecker - 6-Polig
Winkel Zündung: 22°
16300U/min
Abmessungen L/B/H: 98x55x31mm
Zuleitungen: black: Switch off / red: Charge / blue: PC / yellow: Ignition coil / 2x green: Ground
Hinweis: Bitte vergleichen Sie den Stecker vor dem Kauf mit Ihrem Original.
Diese CDI-Einheit (AC) ist kompatibel zu alle Motoren bei denen der Zündstrom von der Lichtmaschine gespeist wird, außer Fahrzeuge mit Zündungen bei denen der Zündstrom von der Batterie gespeist wird,
das lässt sich mittels Spannungsprüfer und eingeschalteter Zündung leicht erkennen.
Es gibt verschiedene Versionen von Kabelbäumen. Sollte bei Anschluß die Sicherung rausfliegen muss das schwarz/weiße Kabel auf den Pin vom schwarzen Kabel gelegt werden. Das schwarze Kabel bleibt frei und sollte gut isolliert werden.
passend für Fahrzeuge von Cenkoo CNKO, Xmotos XB-33, Bashan, Stixe, Stxe oder ähnliche.
Customers who bought this product also bought the following products:
This Product was added to our catalogue on Wednesday 25 July, 2012.