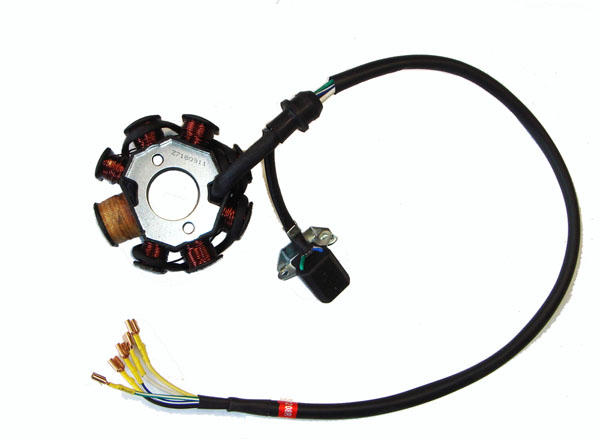 Lichtmaschine Stator Alternator 12V für Zongshen 250cc Luftkühlung Motor oder ähnliche
8 Spulen.
Innendurchmesser: ca.29mm
Abstand von Befestigungslöcher: ca.40mm
Außendurchmesser: ca.88,50mm
Kabelstrang mit 5 Kabel in den Farben schwarz , schwarz/rot, 2 x weiß, weiß/rot oder grün, schwarz/rot, weiß, gelb, blau/weiß
passend für CENKOO K2-250 oder ähnliche.
Lichtmaschinenanschlüsse Verdrahtungsplan
Die Stecker der einzelnen Lichtmaschinen können variieren und es ist unter Umständen nötigdiese etwas anders zu verdrahten.
Die einzelnen Farben haben folgende Bedeutung:
1. Gelb/Weiß, Gelb/Gelb oder Weiß/Weiß: Wechselspannung für den Laderegler oder dieBeleuchtung.
2. Grün oder Schwarz: Masse (-) zum Anschluss an die Batterie oder den Rahmen.
3. Blau mit weißem Streifen oder Weiß mit rotem Streifen: Pickup (Zündsignal) für die CDI.
4. Schwarz mit rotem Streifen: Zündspannung für die CDI.
Customers who bought this product also bought the following products:
This Product was added to our catalogue on Wednesday 25 July, 2012.